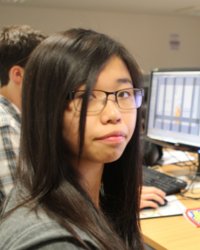 Name: Amy Duong
 Age: 17
 School: Christ the Kind Sixth Forn College
Career aspirations: I would either like to become an animator/film maker or an economist. One of my aspirations is to create short films if I do decide to pursue animating as a career.
Reason for joining 3Dami: I joined 3Dami so that I can have more experience in animating and working in a group, also joining 3Dami would hopefully boost my profile so that if I do go in to animation as a career I would be able to show my enthusiasm for animating.
Role within the team: Animating/ rigging/ Character modeling 
What did your role entail: My tasks requires me to make the character and rigging them to make them move, which is animating the characters.
What have you enjoyed most: I have enjoyed modelling the character as I was allowed to be creative and I also enjoyed watching the animation come together.