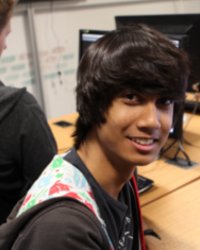 Name: Frame Phrommet
Age: 17
School: Christ The King Sixth Form College
Career aspirations: Entertainment Design
Reason for joining 3Dami: I joined 3Dami because I wanted to experience working on a team project. This allows me learn new skills by communicating with the members and apply my own skills to help with the team project.
Role within the team: Concept Artist, 3D Modelling, Assisting Texturing and Compositing
What did your role entail: My main roles was concept design but mainly designing characters, creating different designs to get the overall idea of the characters and narrow down the idea to put forward. I also help and took part modelling different assets and props. Lastly I assisted with Texturing and Compositing
What have you enjoyed most: What I've enjoyed most is working along and communicating with friendly people and to see a quick concept design come to life on a 3D software.