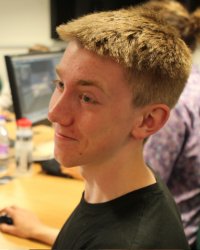 Name: Ben Mansfield
Age: 18
School: Bristol Grammar School
Career aspirations: Feature Film Animator
Reason for joining 3Dami: To gain experience of creating an animated movie within a team as previously I had worked alone. I also wanted to gain new skills and a greater understanding of the individual roles that are needed within a team to create an animated short.
Role within the team: Project Manager, Animator and Modeller 
What (tasks) did your role entail: I think Animator and Modeller are pretty self explanatory, I created several models such as the houses and animated the fishing rod pulling shot. As project manager I was responsible for organising the team into a coherent force. The fact that the film was still being rendered during its first showing to the public makes my impact questionable but efforts were made to make a quick pipeline. Spreadsheets were made of the shot lists and models that needed making and individuals were assigned tasks. Much of my time was spent telling people what to do next and fixing problems with assets that weren't linked across scenes properly.
What have you enjoyed most: I found that learning new skills early in the week such as modelling was the most enjoyable part of the course as i was able to sit down and focus my efforts on completing a task. It was great having others around me that were more knowledgeable on the subject than me so I was never far from help.